Another day at sea looking at glaciers and wildlife. Of course it started with breakfast.
Another lovely day as you can see by the blue sky. The pools were lovely but we never had time to use them. Most people were just too busy looking for wildlife and scenery to spend time in the pools.
We did take time out to go and watch the Head Chef and the Maitre d'hotel doing a cookery presentation which was very funny. They were a good double act.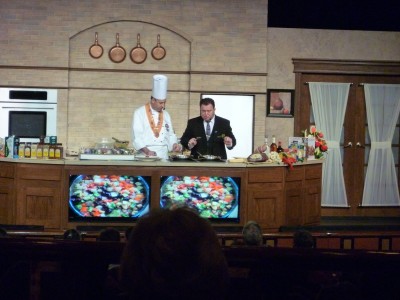 After the show we were shown around one of the galleys. It was enormous but immaculate, as one would expect. There is one member of staff on the ship to every 2.58 guests which is pretty impressive. Here is a picture of Barbara with the dynamic duo getting her cookbook signed so look out for some exciting dinners from now on.
A picture of Hector admiring the view from our balcony. We spent all afternoon and evening on our balcony as we were on the right side to see the glaciers close up and also had the full sun. So it was out with the recliners and the wine. Hector was quite safe on the rail as there was a balcony below which stuck out further than ours.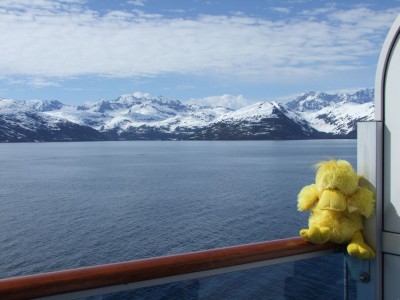 This is the Harvard Glacier on the right. We are still about 5 miles away as it was too icy to get any nearer. It is 2 miles wide and quite impressive.
This is looking down the corridor of our ship. You really couldn't see the other end. As I said in an earlier blog if you walked round the deck 3 times you had walked a mile. This was the night before disembarking and they collected the cases by eight in the evening to save time the next day. All very organised.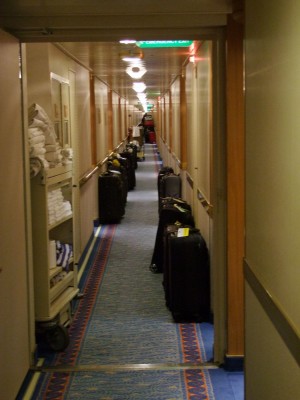 This is Barbara saying goodbye to Marc who had been our waiter in the evenings all week. He and Vic the other waiter were really good fun. This was our last dinner on the ship which was sad but probably a good thing as far as our waistlines were concerned!