Boarding the ship was very exciting. We had walked down to the dock in the morning from the hotel just to see where we had to go. We couldn't believe the size of the ship. We had been upgraded to a superier stateroom which was great. When we eventually got on board and saw our room we were delighted. It was on the 10th deck and it was really nice. If you look closely there is a faint red box around our balcony but you might have to zoom in to see it.

As you can see Hector soon settled down for a nap after a long day.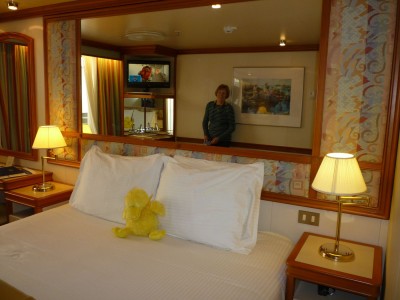 It was quite exciting when we started to cruise out of Vancouver and we made good use of our balcony.
We didn't do too much exploring as we were a bit tired so we went down to have our dinner and had a fairly early night.