We arrived in Ketchican about 6.00am. We had an early start today as we had booked a coastal wildlife cruise which left at 6.45. The breakfast room started serving breakfast at 5.00am. The cruise was really good. We had not gone far when we spotted our first bald eagle but we were to spot even more further into the cruise. We saw our first humpback after about 20 minutes. The highlight though on this trip were the eagles. We came up towards a beach and there were at least 6 of them eating a salmon. The boat managed to get really close and we got some wonderful photos as you can see below.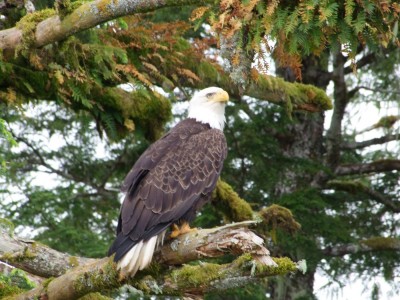 This is a photo of our boat as we came back into dock after the trip.
Once off the boat we went back on the ship for morning coffee before
heading back into Ketchican with Hector for a look around. The ship was
leaving at 1.30 so we didn't have a lot of time. Hector was desperate to
go on the Duck tour but he had to make do with a photo shoot instead.
We managed to have time to walk to the totem pole heritage museum for a look around before getting back on board for a late lunch. We did a lot of eating whilst on our cruise! The rest of the day was spent exploring the parts of the ship we had not yet found, having afternoon tea with Fred and Erma our American neighbours, which they served everyday from 3.30 to 4.30, scones and everything, and of course eating dinner at night. You get the picture!!!