Well, our last day in Denali has been great again as you can see from the sky behind this Dall ram we photographed whilst out on our bus trip (when you click the link, click "Map" in the top right of the map and select "Satellite" to get a better idea ot the terrain). Left at 9.00 and got back at 5.00.
This was Hector's first long trip into the park and he had a wonderful time. Made lots of friends as usual. Even had his photo taken by other people. Here he is at one of our stops trying to wear antlers but they were very heavy so we had to give him some assistance.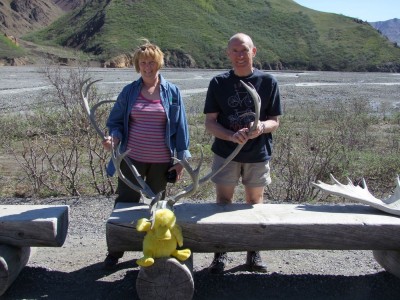 Barbara managed to get this photo of a red fox and also unwittingly got an arctic ground squirrel as well.
We had another brilliant sighting of a grizzly bear. This one had a slightly lighter coat than the one we showed you the other day. Very exciting. We actually saw 2 but only got a picture of this one.
We went further into the park today, in fact 67 miles each way, so we got a wonderful view of Denali showing its full height. Did you know that this is the highest mountain when measured from its base to summit as the ground around its base is only 2 to 3 thousand feet. It is also the coldest.
Hector at our final stop before heading back.
This little ground squirrel, the same as in the fox picture, came out to see us. We think it must have been getting some sort of mineral or some tiny bugs from the stone. None of the animals in the park come looking for food from visitors as there is a very strict policy on not feeding animals or even leaving crumbs. There is just one small place where the general public are allowed to eat food.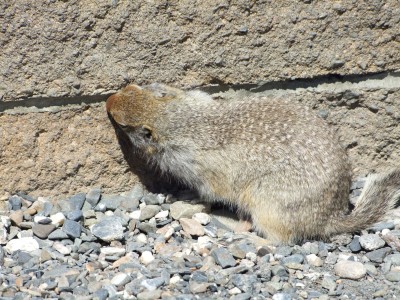 Hector admiring the view of Denali.
This is our bus. We had a bit of a bumpy journey on the way back as the new driver, who was very yellow, wasn't very good!!!
A lovely male Caribou. Look at those lovely antlers and they still have quite a bit more to grow.
Why is it that you find the best place to eat on your last night in a place? Prospectors is a great place to eat and drink.

They have a range of 49 beers on draught covering the full range of types of beer and ale with something I'm sure for almost everyone.
We leave here tomorrow to head back to Anchorage so probably not too much to report tomorrow eve but will blog something.