On the way up to Anchorage we saw a couple of mountains that resembled those of the Black Cuillin on Skye. This is a photo of one of them taken on the way back. Those who have experience of Skye and who have had parts of their anatomy rubbed off by the rock will recognise the similar features here. If it's not gabbro then it must be something very similar.
As the weather conditions around Denali were better today than on our trip North we couldn't help stopping to try and get a better view of it. We stopped several times and captured a few decent views although we only realised that we had missed perhaps the best location after we had passed it.
There are not very many places to stop for lunch between Denali and Anchorage so we had a picnic lunch of left over pizza from last night's dinner. Weather again was lovely. To see a panorama of Denali taken from this picnic spot click this link.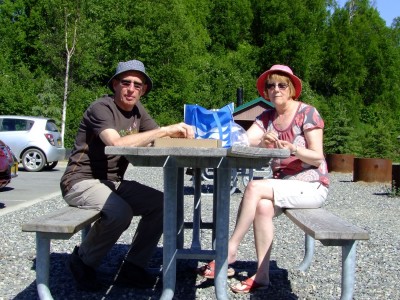 Eating again. This is the hotel we are staying at near the airport. It is next to the world's largest float plane airport.
Nice watching them take off and land.
Hector was a bit put out when he read this notice.